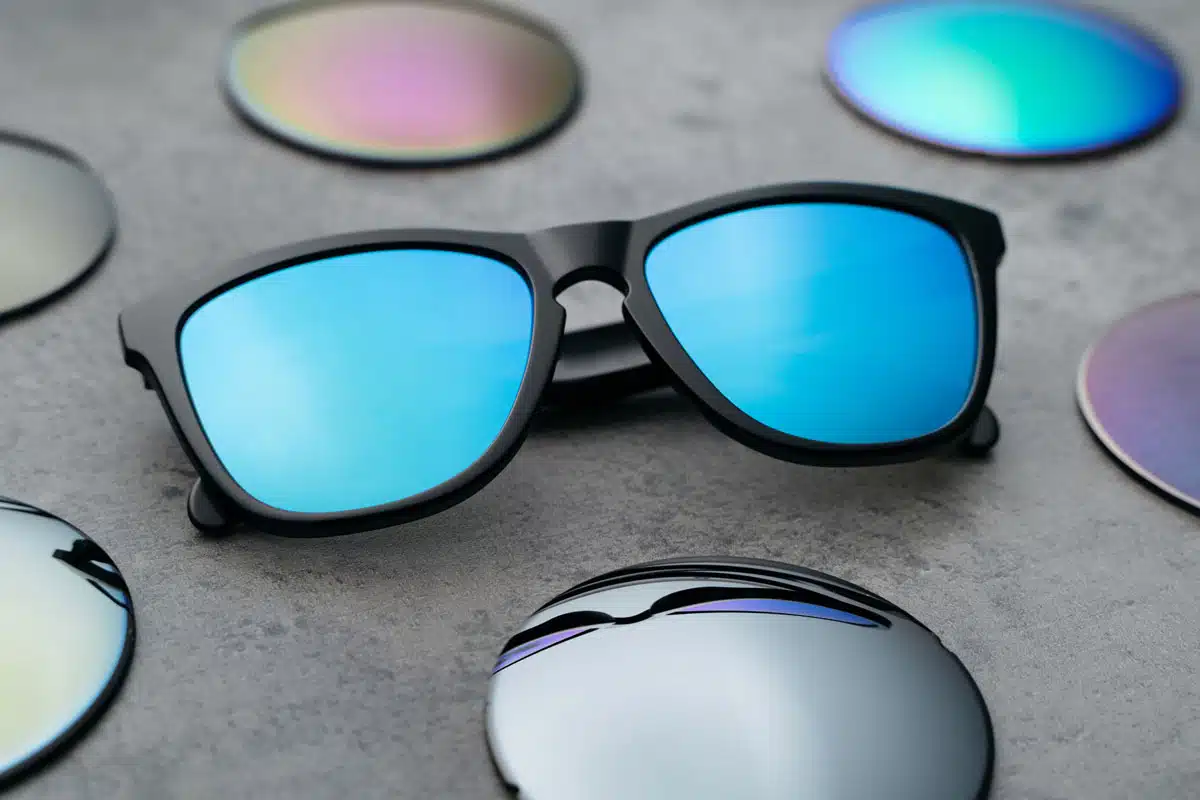 It may seem as though tinted sunglasses lenses are simply a matter of dark vs light, but there is more to it, and getting the right shade for you will make a massive difference to your comfort and wearability. In this comprehensive guide to tinted sunglasses lenses we look at the different types and colours of sunglasses lenses available, and which works best for who.
The different types of tinted sunglasses lenses
Tinted Sunglasses Lenses Styles
Before we get to the colours, you need to know what style of sunglasses you need. Frames aside, there are a few considerations to make for your tinted sunglasses lenses too.
Solid tinted sunglasses
Perhaps the lens that generally springs to mind when we think of sunglasses, are solid tinted lenses – one uniform shade across the whole lens. It gives excellent coverage and protection from UVA and UVB damage, and a dark overall lens always looks the part. But while you can do most activities with a standard solid lens without too much bother, there are significant advantages to investing in more bespoke lenses to suit your lifestyle best.
Gradient tinted sunglasses Lenses
If you regularly move from inside to outside or need sunglasses to drive, a gradient option is ideal. A gradient lens tint moves from a dark to a light shade and is available in various colours. You can, of course, drive in solid lenses, but colours and the restrictions the darker lens can impose on the readability of signage and your dash can cause an issue. Gradient lenses can offer the best of both worlds; with an additional UV treatment, they significantly reduce harmful UV rays while allowing enough light in to read your dashboard display and find your way reading road signs.
Aesthetically speaking, gradient lenses will allow people to see your eyes through them, whereas a solid lens doesn't. Your eyes are still protected, so this can come down to a matter of personal preference.
Polarised sunglasses lenses
Whether you're snowboarding, on the water, or on construction sites and outdoor working, polarised sunglasses protect your eyes from light reflecting off surfaces like water, snow, tarmac, and sheet metal.
Developed by NASA no less, polarised lenses use chemicals to mimic the effects found in nature to control certain light properties and limit specific wavelengths. The result is a lens that helps reduce glare thanks to the vertical filter (glare is typically horizontal) from reflective surfaces and reduce eye strain.
Contrary to popular belief, polarised lenses don't actually provide UV protection. Instead, users must specify UV protection requirements when ordering, so a laboratory can add UV treatment in production to provide eye protection.
Many regular and high street bought polarised lenses may not always provide the best level of UV protection, so extra coatings may be needed. Lensology supply UV protection across all their sun-wear lenses as standard meaning no matter which lens you choose you are fully protected.
Coloured Sunglasses Lenses
Grey sunglasses lenses
Grey tint offers a highly versatile lens that gives glare protection yet allows the wearer to see colour still. The combination of glare reduction and clear visibility makes them ideal for outdoor activities, including cycling, fishing, active sports and nature lovers alike. The stand-out benefit is anti-fatigue, with the grey tint causing less eye strain and squinting, significantly reducing the tension on the eyes when driving, walking, sailing or running. It's a perfect all-rounder on sunny days and our often fickle UK days when the weather can't decide what it's doing.
Brown sunglasses lenses
Spot of golf? Taking the boat out on the lake (if you're lucky enough to own one)? The red hue in brown and amber sunglass lenses improve depth perception making them ideal for judging distances. Activities aside, they are also great for people who are particularly sensitive to light, taking the glare and brightness down a notch without having to go completely dark with a grey lens. Less helpful on cloudy days or in low-light conditions, amber sunglass lenses are most beneficial in sunny conditions, providing excellent eye comfort and amplifying contrast against lush green landscapes and clear blue skies.
Red sunglasses lenses
Keeping with the depth and detail theme, red and rose-coloured lenses are also a great option for this, helping to increase both and so another good option for sports, driving, and nature lovers. In addition, rose and red lenses are excellent eye adjusters, making them ideal for snow sports and a popular choice for goggles and sunglasses on the slopes. Closer to home, they are also a go-to for gamers and computer users thanks to their blue-light blocking properties, reducing eye strain, fatigue and so great for endurance whether sat in a computer chair, driving or navigating a mountain. Find out more about blue light glasses.
Green sunglasses lenses
Another excellent blue light blocker, green hues, help to provide contrast by filtering out blue light. Blocking out blue light helps reduce glare and eye strain in brighter sunlight and is another alternative that works well in cloudy or sunny conditions. Cleverly, green lenses reduce glare while brightening shadows, ideal for sports but driving is better suited to amber, red and brown tones. Tennis players and golfers particularly favour green-hued lenses, but they are a great option for general everyday wear too, where grey lenses may be too dark.
Yellow sunglasses lenses
Ideal in moderate to low-light conditions, orange, yellow and gold hues are excellent depth perception providers indoor and outdoor. Another to add to the blue light blockers range, yellow lenses improve object visibility, make surroundings appear brighter, sharper and block out that much-maligned blue light. If colour clarity is a must-have feature, then yellow may not be the first lens choice as it can distort colours coming through. But if an increase in contrast in hazy, foggy, or low-light conditions is preferred for sports such as cycling, skiing, snowboarding, and racket sports, indoor and outdoor, then yellow lenses are a great choice.
Blue sunglasses lenses
A calming hue of blue or purple-tinted lenses contributes to decreasing eye strain and fatigue, but they don't block out blue light. Instead, blue tint enhances the contours around objects and improves colour perception, and they are excellent at reducing glare during snowy conditions on the water and various sunny leisure activities. They are also a fashion staple, so whether you are out on the snow, water, driving range, or just walking the dog, blue lenses improve colour, reduce glare and amplify contours while looking super stylish at the same time.
Replacing your sunglasses lenses
While sunglasses may seem like a luxury to some, they are in truth a hybrid of fashion and critical function. While we want to look good and avoid squinting into the sun (not a good look for anyone), sunglasses are also essential for saving your eyes from the detrimental effects of UV rays, a huge contributor to early ageing and, at worst, cancer (find out more about the effects UV rays have on your eyes). But, we know quality sunglasses can come at a hefty price, especially for high-fashion brands.
Reglazing an investment pair, newly purchased frames, or swapping out standard lenses for tinted sunglasses lenses is a great way to keep costs down from the hefty price tag of the high-street while getting to enjoy the luxury fashion brands you know and love.
Choosing the right lenses for your needs can seem daunting, but get it right, and the comfort and enjoyment you get from your sunglasses are priceless in comparison to fast fashion off the shelf.
At Lensology, we reglaze sunglasses for prescription and non-prescription wearers. With our fast, high-quality, easy to use postal service, you can get the sunglasses lenses you want for a fraction of the price. We stock brands such as Ray-Ban replacement lenses, Oakley replacement lenses and more. Our friendly team can help you with any questions or queries you may have in choosing your lenses and make sure you have exactly what you need for your lifestyle and requirements.
Contact us today to learn more about the tinted lenses you need, or head straight to our Freepost postal box ordering service.