Gaming is ever-growing in popularity with it seeing huge spikes during the pandemic when people were spending great amounts of time stuck at home. There was a 29% increase in time spent playing video games during the Coronavirus pandemic, and statistics are still high today.
As we still settle further into our new normal, our screen time has undoubtedly increased, and with more games being sold than ever, it is wise to look at your comfort and protection a little closer.
Computer and most TV screens emit blue light, which can be damaging to the eyes for even relatively short periods. Couple this with hours of gaming in front of often large screens in dark settings for the perfect atmosphere, your eyes will start to feel the strain, affecting your gaming and overall health.
What are gaming glasses?
Gaming glasses are specifically designed to block out the artificial blue light from screens. Blue light has the shortest wavelength and, therefore, the highest-energy part of the colour spectrum.
Why is this an issue?
Well, this means that blue light is closest in frequency to harmful UV light, which is the type of light emitted from the sun, and we all know how harmful this can be.
Lensology blue light glasses reflect the blue light away from your eyes, so it never actually reaches them to cause damage – much like sunglasses lenses, but clear and with the added benefit of UVA and UVB protection, only found in our gaming glasses.
Lensolgy's blue light lenses are also virtually clear, with just a slight blue hue on the anti-reflection coating.
The result?
You can play in almost any condition in comfort and know you're protected, with the colours of your gameplay not being affected.
View our blue light gaming glasses >
Lensology Blue Light Lenses
(clear blue light lenses)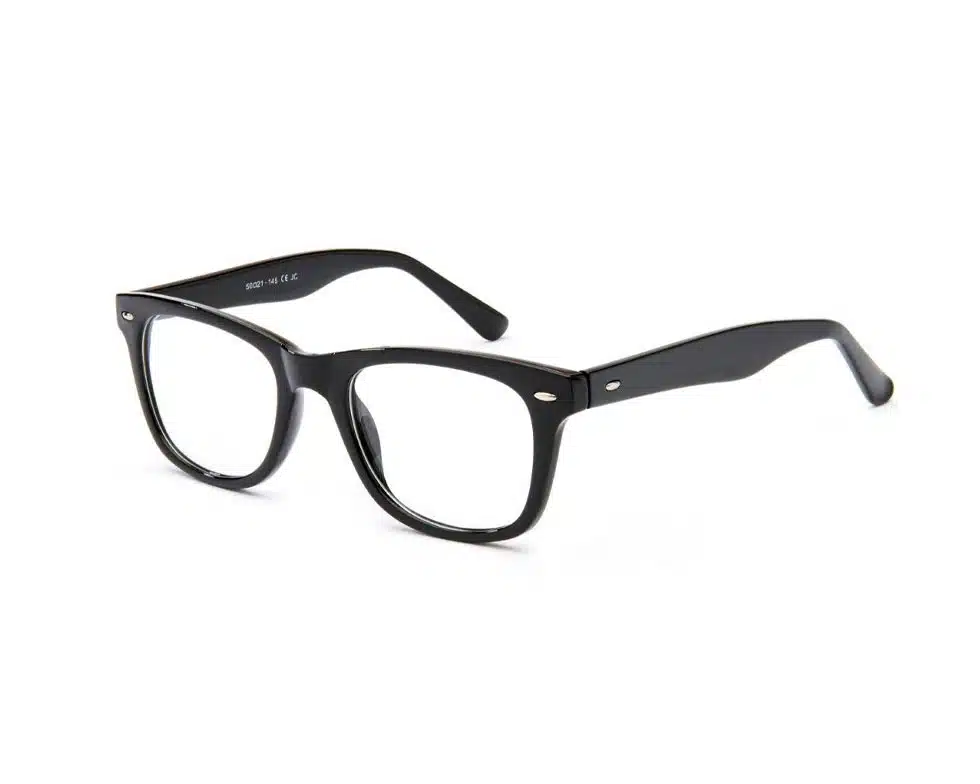 Standard Blue Light Lenses
(visible yellow hue)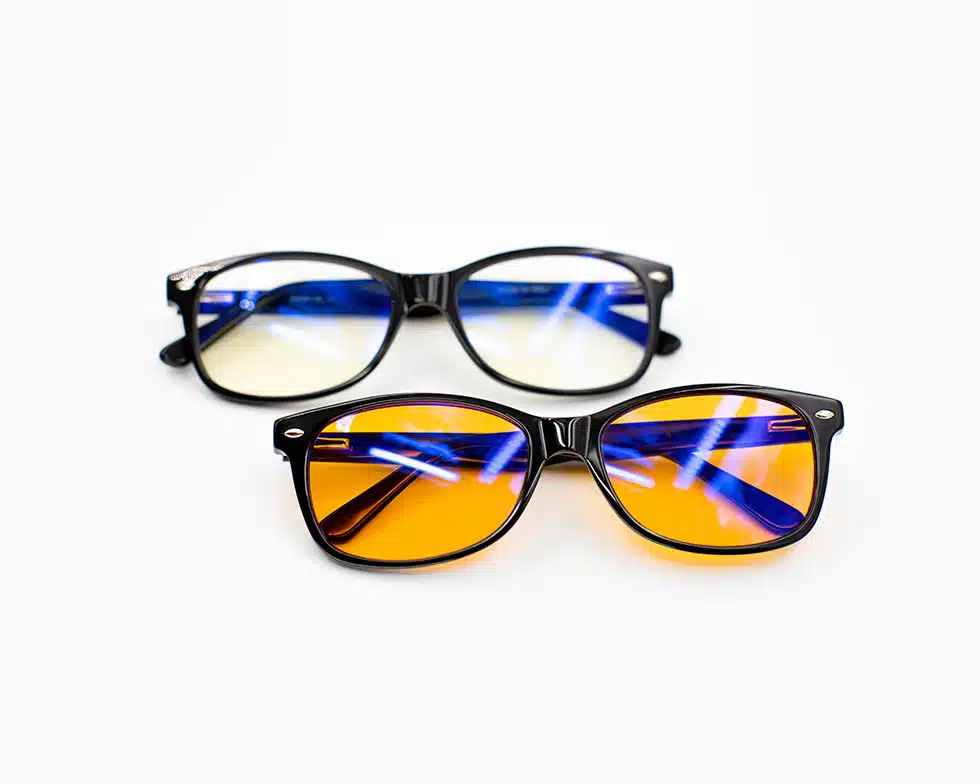 What are the benefits of gaming glasses?
Extended screen time is always likely to cause some element of discomfort, but blue light has been known to cause eye strain, headaches, increased eye rubbing and dryness. Those in themselves are uncomfortable at best but add into the mix the damage you can do to your eyes from excessive rubbing, for example, retina detachment, and you have a whole new set of problems.
Gaming glasses can alleviate the ailments caused by blue light exposure, meaning you can game for longer. Also, the clarity in the crystal-clear lenses means you experience the game as you should, with sharper colours and no distortion, elevating your experience entirely.
Long term protection for your eyes

Helps to prevent eye strain caused by screentime

Improves sleep quality 

Helps to prevent tired and dry eyes

Relief from headaches

Our blue light lenses can fit in any frames
Find out more about the benefits of blue light glasses >
Can you buy prescription gaming glasses?
Yes. At Lensology, we offer blue light as an option to add to any reglazing service you choose, or you can select your gaming glasses from our exciting new range of frames and have a new pair of prescription blue light glasses. 
We offer anti-glare, scratch resistance, tints, anti-smudge, and so much more, which we can combine with blue light filtration. They can be your second pair or your main set of specs; blue light is beneficial in all aspects of your daily screen routine, including phones, TVs and laptops, not just gaming.
Unfortunately, we are unable to supply prescription lenses to under 16's, including prescription blue light lenses. We can of course though supply non-prescription blue light lenses for all age groups, including those that are under 16.
The different types of blue light gaming glasses
At Lensology our fantastic range of gaming glasses provide full blue light protection and are expertly made for style and comfort by our trusted optical technicians.
Alternatively, if you already have a favourite pair of frames that you would like to turn into blue light glasses then Lensology can help with that too! We can reglaze your current glasses with blue light lenses for as little as £41.90.
View our blue light options here >
Gaming Glasses FAQs
When should you wear gaming glasses?
You can wear blue light gaming glasses for much more than just gaming. Blue light glasses and lenses are beneficial when you are using a screen that emits blue light, such as anytime gaming, using PCs, watching tv, and even scrolling on your phone.
Are gaming glasses expensive?
No, Lensology is passionately competitive with the high-street to deliver quality and cost-effectiveness to our customers. Our range of gaming glasses start at just £42.00 for kids and £45.00 for adults, including non-prescription lenses, so order now, and they'll be with you in days!
If you require prescription lenses, you can bundle our frames and technician fitted, high-grade lenses from our in-house lab starting at a package price of £55.00.
For reglazing an existing pair of glasses with prescription blue light lenses, prices start from £41.90.
How do you clean gaming glasses?
Gaming glasses need to be cleaned with the same care and attention as you do your standard glasses. Sprays and wipes specific for optical care are best and be sure to add anti-smudge and scratch-resistant coatings to your lenses for extra protection and peace of mind.
Can children wear gaming glasses?
Absolutely and we cater for all gamers, young and old! Our Skreenz range is specifically for kids. If you need help to choose and make sure you have the right lenses for your child, contact our friendly team, who will happily help!
Please note that we cannot supply prescription lenses to under 16's. However, we can supply standard, non-prescription blue light glasses to under 16's.
Can I wear gaming glasses with a headset?
Yes, gaming glasses are standard fit and have no issue working with gaming or work headsets – we'll have you ready for your gaming night no problem!
Do I need gaming glasses?
You don't have to be a serious all-night gamer to benefit from gaming glasses. Even short periods of exposure to blue light can be potentially harmful, and cause sleep disturbances amongst other issues. Blue light glasses can be worn when using any devices and screens to help protect your eyes.