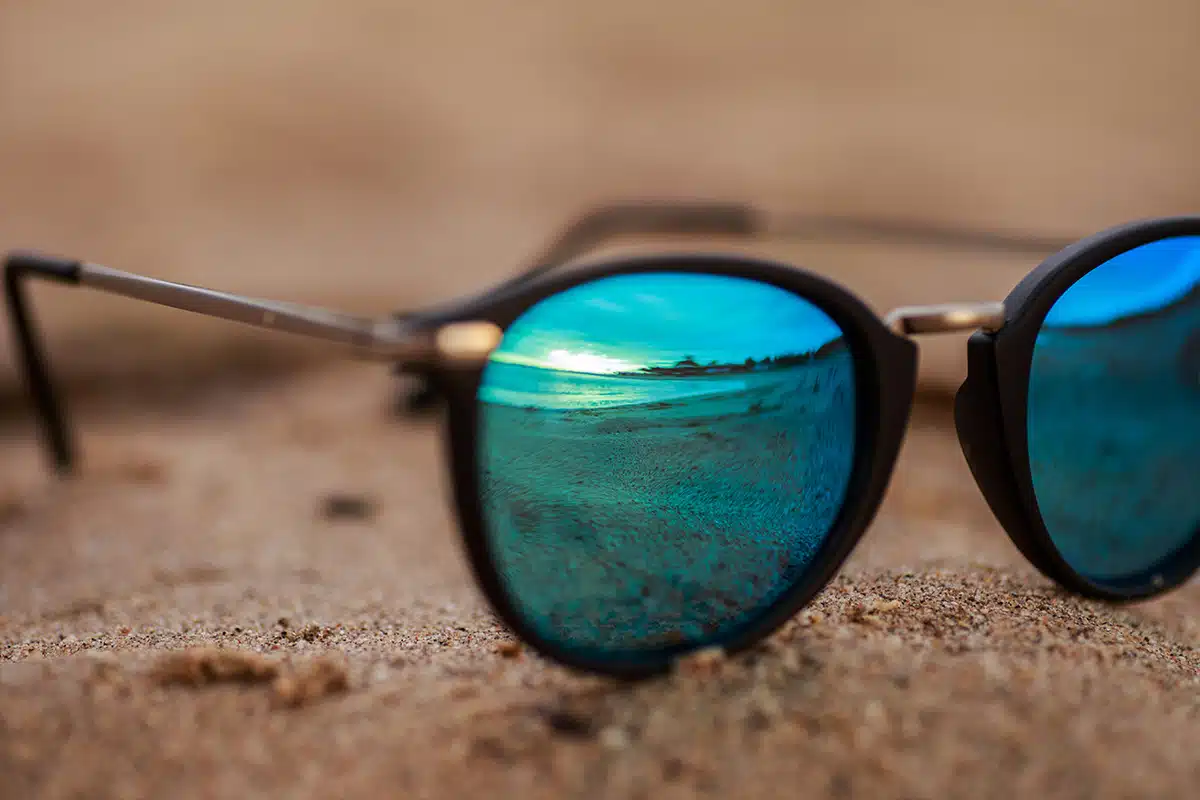 From magazines and music videos to beach getaways and skiing holidays, mirrored sunglasses are spotted everywhere, and we can see why. Not only are they incredibly popular within the fashion world, but they're also consistently a trending sunglasses lens option. They're extremely versatile and can be fitted into any style of frames such as Aviators, Oakleys or Ray-Bans, they can suit anyone and everyone. But what really are mirrored sunglasses and are they worth investing in?
What are mirrored sunglasses?
As described, mirrored sunglasses have a reflective film applied to them just like a mirror. The process involves layering both a tint and a reflective optical (mirror) coating to the front of the lens. The reflective film is applied first, then the tint or plastic coating. This reduces the amount of light passing through, decreases the amount of glare and creates that mirror finish.
Why choose mirrored sunglasses lenses?
As we said, these are a trendy choice of sunglasses when it comes to style. But more importantly, they're great in regards to their durability and protecting your eye health. The mirrored metal coating reflects light, limiting the amount hitting your eye and reducing eye strain.
The mirror layer also provides 100% UV light protection, and by bouncing excess light from your eyes, it allows you to focus more clearly on objects, colours and contrasts. Making these lenses a good choice for outdoor activities such as walking, skiing or driving. You can also choose between full mirror, gradient, double gradient, semi-mirrored and flash coating – whatever suits your look.
The pros and cons of mirrored sunglasses
To help you decide if mirrored sunglasses are for you, we've pulled together the pros and cons that come with these reflective lenses.
The benefits:
They help reduce glare – the thin metal coating reflects excess light away from your eyes, reducing the amount of blinding glare, and alleviating eye strain and squinting.
They're versatile – these stylish lenses work wonders with an array of frame styles and lens colours, meaning you can really personalise them to your taste.
100% UV protection – they protect your eyes and the delicate area around your eyes from harmful ultraviolet rays, making them ideal for outdoor sports.
You can hide your eyes – if you're a private or mysterious person, these are perfect for you as the mirrored lens will hide your eye and reflect the image of whomever you're talking to.
The cons:
Prone to scratching – although the coating on the lenses is fairly durable if it is scratched it will stand out more on the smooth, shiny surface.
Smudge marks are obvious – again, the smooth, shiny surface of a mirror glaze means it can pick up the smallest imperfection such as scuffs, smudges or finger marks.
They can cost a bit more – due to the additional layers of coating, mirrored sunglass lenses can cost a little bit more but are often worth the investment.
Mirrored vs Polarised Sunglasses
So, what's the difference between mirrored and polarised sunglasses? Although their features sound very similar, there are a few differences that could help determine which lenses are right for you.
| | |
| --- | --- |
| MIRRORED SUNGLASSES | POLARISED SUNGLASSES |
| Have a thin metal, mirrored coating | Have a chemical coating |
| Reduce blinding glare | Block blinding glare |
| Reduce eye strain and squinting | Reduce eye strain and squinting |
| Hide your eyes completely | Keep eyes visible depending on lens colour |
| Great for outdoor activities | Great for outdoor activities |
| Available in multiple styles, lenses and prescriptions | Available in multiple styles, lenses and prescriptions |
| Have a visible mirror sheen finish | Have a hidden polarised finish |
You can upgrade your sunglasses with mirrored polarised lenses, so you can benefit from all of the above features.
Upgrading your sunglasses to mirrored sunglasses
Although we want you to look good in your sunglasses, they also have an important role in protecting your eyes from the sun. Fashion-led styles often have a large price tag attached but reglazing your existing glasses is a great cost-effective alternative.
At Lensology, we reglaze sunglasses for prescription and non-prescription wearers. With our fast, high-quality, easy-to-use postal service, you can get the sunglasses lenses you want for a fraction of the price. We stock brands such as Ray-Ban replacement lenses, Oakley replacement lenses and more.
Our friendly team can help you with any questions or queries you may have in choosing your lenses and make sure you have exactly what you need for your lifestyle and requirements.
Contact us today to learn more about the tinted lenses you need, or head straight to our Freepost postal box ordering service.