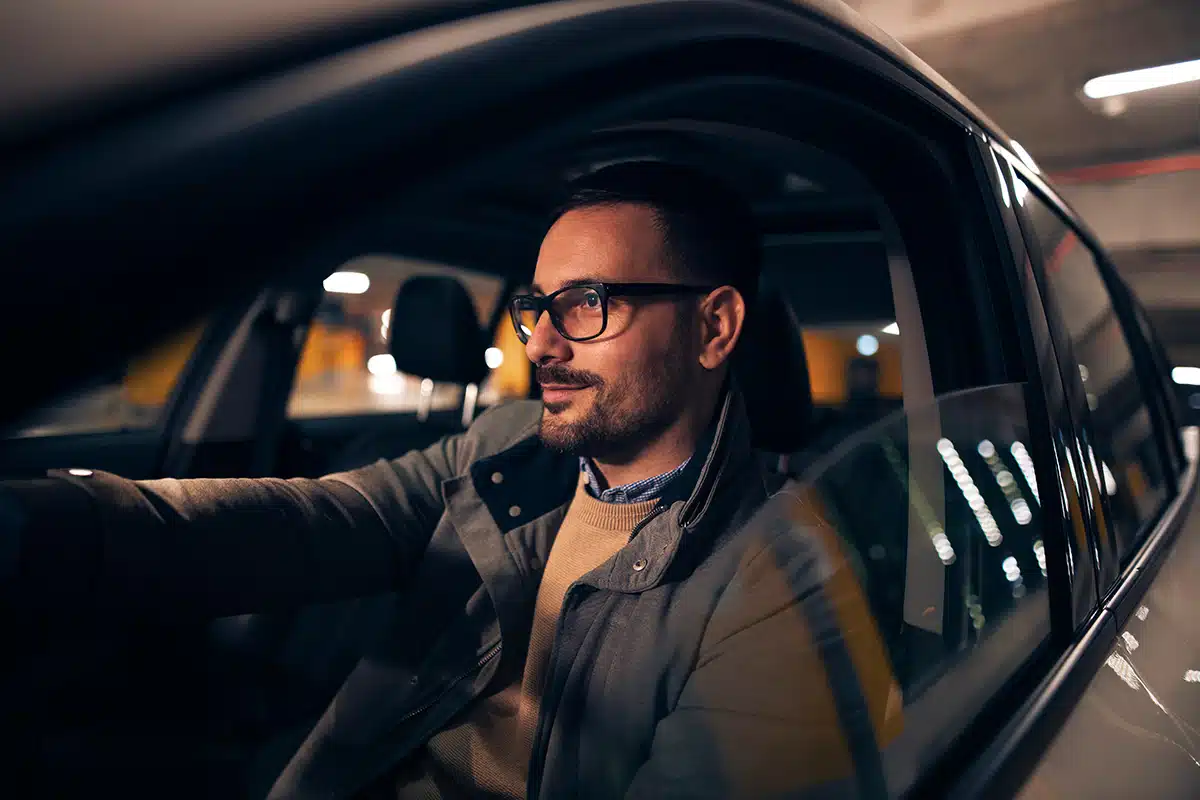 Driving in general requires drivers to have clear, sharp vision to identify and avoid potential hazards. If your vision is impaired in any way, such as dark nights, this could impact your reactions and cause harm to you and/or others.
Night-time driving usually involves dealing with low-light conditions which makes it difficult to distinguish colour, depth perception and peripheral vision, as well as glare and reflection from street lights and headlights of other road users.
If you find yourself driving in evening conditions, night driving glasses can have several benefits to enhance your vision and safety. However, there are some important factors such as your eye health, prescription and general preference that can influence their effectiveness.
How do night driving glasses work?
These glasses have been designed with a yellow-tinted lens; this particular colour helps reduce blue light which increases glare and contrasts in colour for a clearer view. They're also often used by athletes and hunters to help pinpoint their targets.
Yellow-tinted lenses reduce the amount of light entering the eye, but when evening conditions often involve limited lighting this could be seen as counterproductive. Yellow-tinted driving glasses should therefore be used as an additional measure to night-time driving rather than a solution.
As an alternative to the yellow tint, night-time drivers can add an anti-glare and/or a polarised finish to their prescription glasses, which will admit enough light for you to see comfortably and block surface light which creates that blinding glare.
Anti-glare driving glasses
Anti-glare is a key addition to any glasses, especially when driving at night. Our eyes naturally adapt to different conditions but this constant adjustment to streetlights, headlights, reflections off road signs etc. can impact our vision as well as increase eye strain and headaches.
A simple and highly effective solution to reflective light is through anti-glare lenses. These are cleverly designed to stop any glare, creating a sharper view and a more comfortable driving experience. The anti-glare coating can also be added to your existing prescription and non-prescription glasses.
Do I need night driving glasses?
If you drive a lot at night your eyes may be used to adapting to the change in conditions, but you can still be caught off-guard, and it never hurts to be prepared. Choosing appropriate night driving lenses can also support your eye health by reducing eye strain which can lead to tiredness, headaches and wrinkles!
Night glasses, especially those with anti-glare lenses, increase visual clarity and reduce interruptions from bright lights. Ultimately, making you feel more confident and comfortable when driving at night.
Eye health conditions to consider
When it comes to driving, particularly at night, you should also consider any health factors that may impact your ability to drive, such as:
Ageing eyes
– as we get older, our eye health will deteriorate and our reactions slow down. We also require our eyes to absorb more light for clearer vision.
Nyctalopia
– also known as night blindness. This doesn't mean you are completely blind at night but you do struggle to see in darker settings.
– this refers to those who struggle to see objects far away, which becomes more difficult in low-light conditions.
– is a condition that reduces your peripheral vision due to the build-up of fluid in the eye, causing damage to the optic nerve.
– this forms a cloudy layer over your eye, blurring your vision and making it hard to see during the day or night.
If you feel you are suffering from any of these conditions, we recommend speaking with your optician to discuss the best option for you.
Will night driving glasses help?
As we've highlighted, there are pros and cons to night driving glasses. Yellow-tinted lenses make dark areas of the road ahead harder to see, therefore, they are not recommended due to the limited visibility that they provide.
If you do not wear glasses or have a prescription, it's best to use no glasses at all. If you do wear glasses, it's best to stick with your prescription glasses and invest in anti-glare or polarised lenses. They should make you feel more comfortable and confident in spotting hazards and driving in difficult night-time conditions.
Tips to improve your vision when driving at night
Unfortunately, there are no "night vision glasses for driving" to resolve every issue that comes with driving at night. But there are some quick fixes you can act on now to instantly improve your sight:
Ensure your glasses prescription is up to date
Apply an anti-glare finish
Wipe your lenses; smudges can amplify glare
Clean your car windows to remove streaks or watermarks
Check your windscreen wipers
Keep your headlights clean
Lower your dashboard lights
So, what are the best glasses for driving at night?
There is no scientific evidence that yellow-tinted driving glasses improve your night vision when driving, but some lens wearers may feel they benefit from them.
At Lensology, we advise anti-glare glasses for driving to reduce glare and filter out blue light. These can take you from day to night and have several subsequent health benefits, including decreased fatigue and eye strain.
You can upgrade your existing lenses with anti-glare for only £31.90 with Lensology. Through our free postal service, we can fit non-prescription and prescription anti-glare lenses into frames of your choice. Pop them in the post with your prescription and additional coating options and they'll reach our lab technicians, who, with precision, industry-leading techniques and care, will create your perfect lenses and have them back to you within several days.