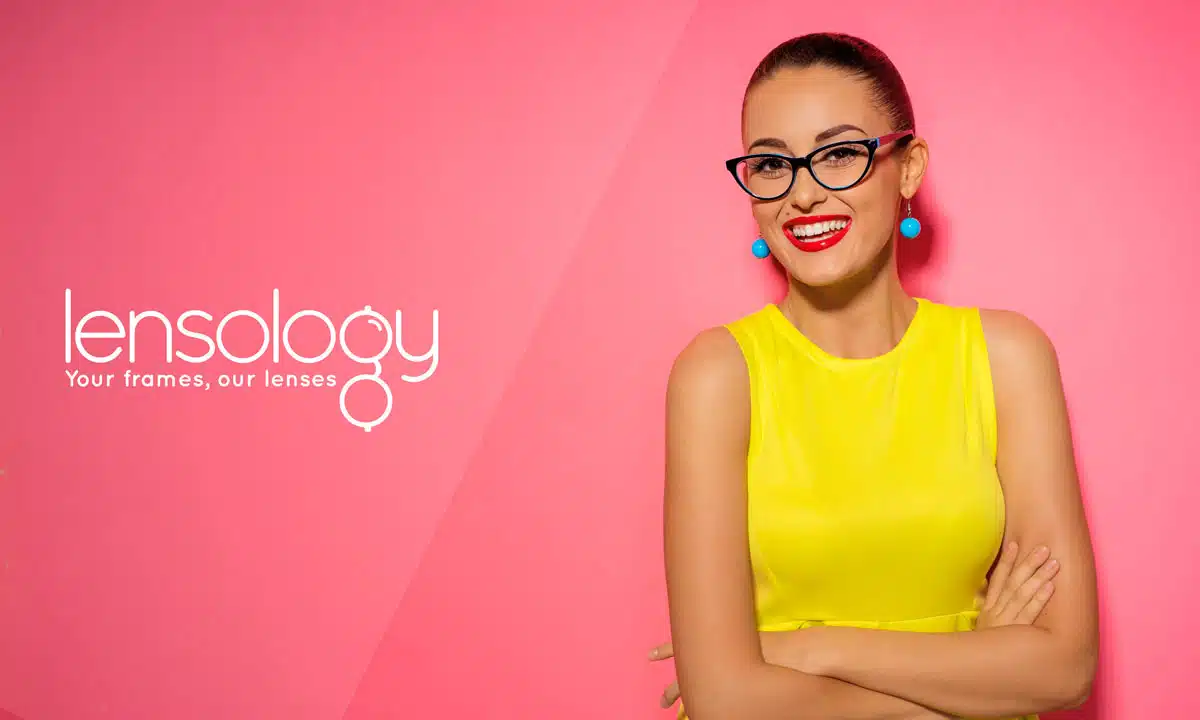 Frames are often the main culprit of broken glasses, whether they've been sat on, trodden on, or pulled around by the kids, one usually winds up with a new set of glasses. But what do you do when your frames are fine, but your prescription has changed, lenses have been damaged, or you need anti-glare for driving that you didn't need before?
Reglazing your glasses means you can replace your lenses and keep your favourite frames. The benefits of doing so include saving money, time, and the environment; all three of which you can agree are perfect reasons to give it a try.
When should I reglaze my glasses?
Lens Damage 
If your lenses are scratched it can be distracting to look through, limit your vision, and ultimately weakens the lens. So prolonging the inevitable by not getting them replaced isn't a good option.
Lensology can easily replace smashed or damaged lenses by reglazing and we have a vast combination of types, coatings, and features for you to choose from including varifocal, bifocal, blue light, and many more. View our range of lenses.
Updated prescription 
You should be having your eyesight tested every two years in the UK, and so with regular check-ups, you can keep up to date with your prescriptions changes. Unfortunately for many, our eyesight does deteriorate over time and sometimes it may only be a minor change on a fairly new pair of glasses. This is where reglazing is the perfect solution, addressing the vision change without the expensive outlay of new glasses.
New lens coating 
You may have decided to forego the anti-scratch last time, and now regret it having dropped them outside, or perhaps the anti-glare in the low evening sun would have been beneficial after all?
Conscious of your screentime and the effect it's having on your eyes? With more of us spending longer and longer looking at screens and working from home, the benefits of blue light lenses are clear. Our blue light lenses can be added to any prescription and protect your eyes from harmful rays and constant screen time.
Again, reglazing means you can add these coatings to your glasses without buying a whole new pair, saving on cost and wastage whilst addressing the additional needs of your lenses.
Get more from your glasses 
The term 'if it ain't broke, don't try to fix it' applies here. Why replace the whole thing unless you have to or really want to?
Buying glasses is a considered purchase, and finding the perfect frames to suit your style can be tricky and expensive. Customers want to be able to keep the item they have taken time and effort to carefully select for as long as possible. Reglazing your glasses gives wearers that option, meaning you can update your prescription when needed whilst keeping your favourite frames.
What are the benefits of reglazing my glasses?
Save Time
Replacing just your lenses generally has a much quicker turnaround time than starting from scratch, as sourcing the frames is taken out of the process. Here at Lensology stock is held and glazing is done in-house in a dedicated lab, so you are dealing with us direct, with no retailer middleman.
Cut Costs
As much of the manufacturing and transport costs have been saved by removing the unnecessary purchase of new frames, the costs are drastically reduced and can be as little as £19.90 for single vision lenses. When designer frames can be as much as £400+ on the high street, the wastage and financial cost of throwing them away for lens damage alone can be astronomical. View our latest deals for special discounts.
Reduce Environmental Impact
Which leads on to the ecological, environmental implications of changing your glasses. It may not seem like a huge contributing factor, given the need to change your glasses may not be very regular, but for every single undamaged, working frame thrown away that isn't recycled, the amount and thus the impact on the environment adds up. By keeping your frames for longer, reglazing to replace the lens and, if needed, using the Lensology frame refurbishment service, consumers can keep more plastic waste out of landfill and help reduce manufacturing emissions in the process. Find out more about the environmental impact of glasses.
Why choose Lensology?
Whatever you decide on, Lensology can advise and source the correct lenses for your prescription. With a 5 Star Trustpilot rating and over 6,500 reviews, ensuring our customers receive the best deals and customer service is our mission. See why people choose us.
Save with Lensology
Our range of lenses can offer massive savings compared with the high street. Our bifocals start from as little as £35.00 versus the high street RRP of £80.00 – £120.00, and our varifocals start from £64.00 – with the high street RRP starting from £120.00 to £170.00.
A huge difference in cost, and with regular deals with as much as £20.00* discounted off the price, the savings are undeniable. See our latest deals here.