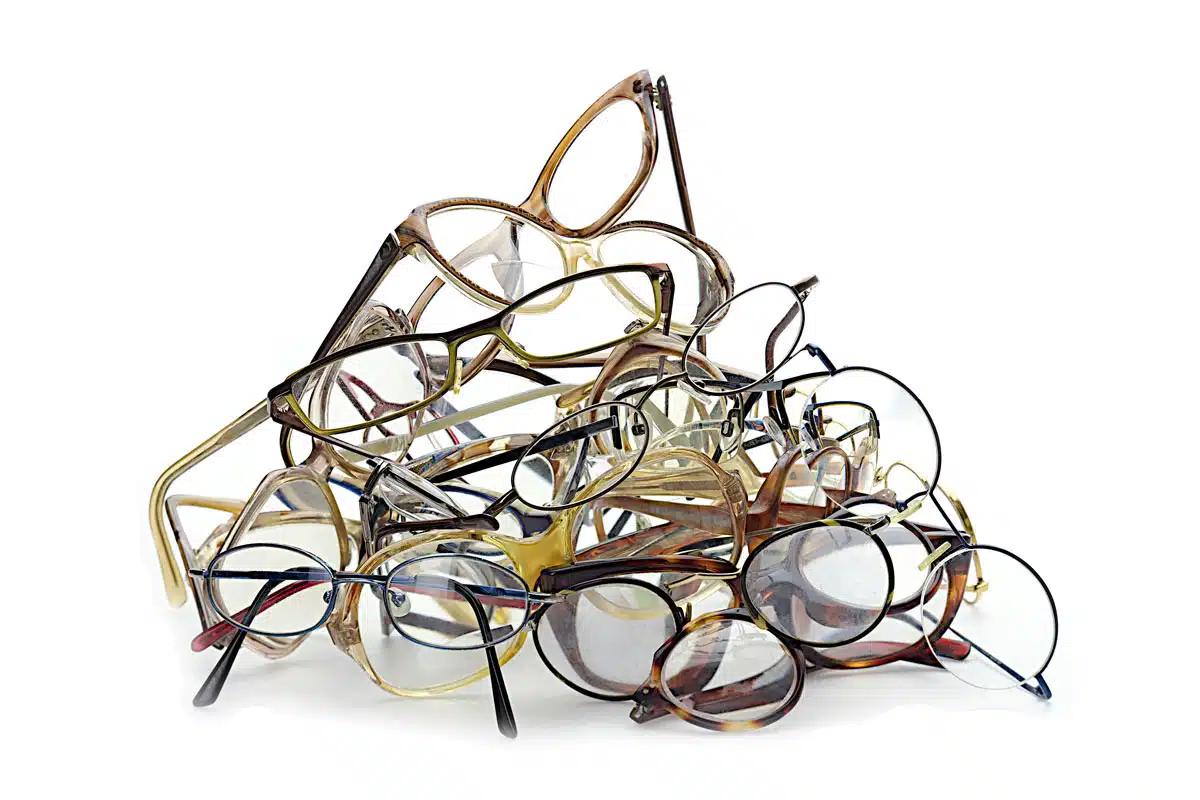 Despite all the designs, fashions and trends we may want to follow, eyecare and visual aids are vital and prescribed, allowing patients to drive, work and live fulfilling lives. It is an added benefit in the eyecare industry that the options are so vast when considering the look and feel of your glasses and catering for nearly every budget.
What has become more prominent in recent times is the notion of 'fast fashion' and its impact on the environment. We see a lot in the media about water usage in cotton production, poorly made garments that are worn twice and then headed for landfill. But, have you considered what happens to your glasses when you tire of them?
Can I recycle my glasses?
There are initiatives where you can donate glasses in good condition to charitable causes that can give a second life to your glasses to someone in need, but these are often poorly advertised and not as common place as we would like. This is a fantastic thing to do if the glasses are in good condition and the whole set is no longer required.
Broken frames will most likely end up in landfill, and as deemed a smaller item in the grand scheme of plastic, are often tossed in the bin. They cannot be put in the recycling from home, and they are coined a 'wishful thinking' item when found, causing more issues for recycling centres when they are being placed in recycling in the hope they will be recycled.
Reglaze, don't replace your glasses
It is of course tricky to eradicate all environmentally damaging processes from eyecare as it currently stands and as a consumer, you are dictated by what's available in the market. There are a few things you can do however, such as choosing 100% aluminium frames in the first instance which can be recycled, using disposable contact lenses where possible and not flushing plastic ones down the loo for example. One of the biggest impacts you can make and easily the most convenient, especially if you have frames already, is to reglaze your glasses.
Lensology specialise in reglazing glasses – lens replacement or lens fitting for new frames. If your frames are in good, working condition, you need not throw them away if your prescription changes. We can change the lenses for you, upgrading them to stronger prescriptions or changing to bifocals, progressive lenses, transitions and more. By only replacing the lenses, the emissions from the manufacture of your glasses is reduced drastically vs. a whole new set of glasses. At Lensology we can cater for hundreds of different scenarios of vision care and our experts are able to advise, based on your prescription, on any questions or queries you may have as to how to do this.
Quality frames, taken care of, should last you years, and so by only changing the lenses when required you can make a significant difference to landfill and plastic waste and manufacturing emissions when changing your glasses. It sounds like a reach but it's true, as the famous supermarket saying goes – every little help's!
How does Lensology work?
We don't have shops and work via the postal service to get your completed frames back to you. This enables us to keep the costs down and importantly, invest any costs back into the service we deliver to you. Once you have your prescription, request a pack and post them back to us via any Royal Mail post box. We will fit your lenses and get them back to you safely, swiftly and with far less environmental impact and cost to you, than full replacement of your glasses.
We have an extensive FAQ section here or you can contact us directly with any questions or queries you may have. If you are ready to go, please order your free pack here and keep your eye out for the courier.