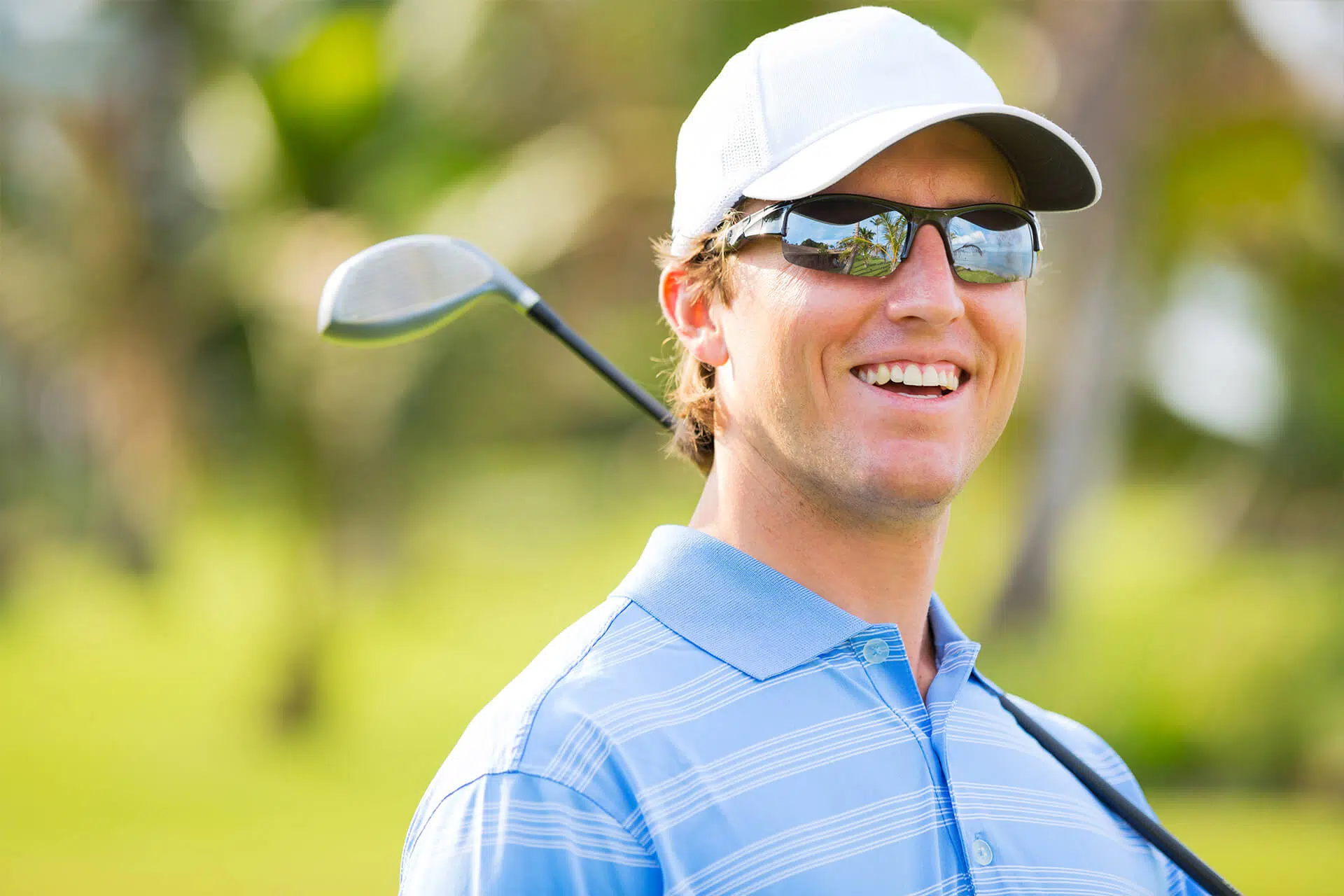 A Complete Guide To Prescription Sports Glasses
From lining up the match-winning freekick to overtaking your opponent and clocking the finish line, your vision is essential to any and every sport. Glasses wearers might believe their sporting days are behind them, but in fact, they're just starting! The latest optical developments and high-quality materials mean you can pursue your favourite sport with bespoke sporting glasses, whether that's running, cycling, skiing, snooker, or even swimming.
To help you seek the best sports lenses for you, we've pulled together the advantages of prescription sports lenses, the best lens enhancements and choosing the right sports lens for you.
Benefits of Prescription Sports Glasses
If you're passionate about your sport, investing in prescription lenses for your sports frames or goggles brings with it a lifetime of benefits, including
Bespoke Lenses
Sports lenses are tailored to meet your individual eye requirements. So, if you require one optical prescription, a single-vision lens fits comfortably into your existing sports frames. For two prescriptions, one for distance (myopia) and another for focusing on items close up (hypermetropia), you can choose between our bifocal and varifocal lenses.
Lighter Lenses
There's a common misconception that higher prescriptions mean thicker, heavier lenses. These can be pretty uncomfortable for runners, cyclists or even for everyday use. Sports prescription lenses can now be designed with varying index levels, which influences the thickness and weight of your lens – the higher the index, the lighter the lens.
Improve Your Eye Health
Sports glasses automatically protect your eyes from the elements, acting as a shield against wind, rain, snow and falling debris. Prescription sports glasses support your visual requirements, meaning you no longer need to strain or squint to focus on the activity in front of you. Ultimately reducing headaches, tension, tiredness and wrinkles, improving overall visual comfort.
Safety First
If you require prescription glasses for everyday use, working, reading, driving, etc., why would you not wear them for playing your favourite sport, too? Ensuring you have an enhanced line of sight not only provides a more accurate picture, but you can keep yourself and others safe from accidents, injuries or potential hazards. For example, spotting oncoming traffic when cycling on main roads.
Better Experience
Sports are meant to be fun, and you shouldn't miss out on the experience due to blurred or painful vision. By upgrading your sports glasses to your prescription lenses, you can continue your sporting passion and even improve your performance again and again.
The Different Types of Sports Glasses
No matter the shape, style, size or sport, there is a sporting lens to match your requirements and glasses. Here at Lensology, we offer numerous prescription lenses and lens coatings for the following sports glasses:
Runners must see the path in front of them and the road ahead to identify any uneven surfaces or potential hazards. Spotting these early allows you to keep your pace and reduce injury. For marathon runners, you'll want to be able to spot your fans cheering you on at the sidelines – prescription lenses provide a safe and more enjoyable running experience.
Contact lenses aren't ideal for swimming, and although many swimmers may take a dip without their glasses, it can be unnerving and dangerous to dive into blurry waters. Our expert technicians can design prescription lenses to fit directly into your swimming goggles for a crystal-clear view above or below the water.
Similarly to runners, cyclists need to be aware of the road and the obstacles in front of them. You may also track your performance, switching from short to long-distance viewing. Without the proper optical support, you may struggle to readjust your focus, putting you at risk if you're unable to see correctly.
When you're gliding through the snow at top speeds, you must ensure you can see the slope below, as well as fellow skiers and snowboarders whizzing around you. You also don't want to miss the stunning mountain views surrounding you! Prescription ski goggles allow you to embrace the whole experience whilst protecting your eyes from the winter elements.
Snooker players have to switch their gaze from the ball directly under their nose to the pocket on the other side of the table. For players with prescription needs, this can be uncomfortable and discombobulating when lining up the perfect shot. Single-vision or bifocal snooker lenses let you see the whole frame and accurately pocket the points.
Why You Need Prescription Sports Glasses
Whether you're an elite sportsman or just getting started, prescription sports glasses play an essential role in your performance. Not only do they provide a better viewing experience, they support your eye health and create a safer environment for you and your teammates – consider them an addition to your helmet, shinpads or boxing gloves! Furthermore, they help you reach your fitness goals and smash those PBs; prescription sports lenses let you see the equipment or environment around you without any distractions or discomfort.
Choosing the best features for sports lenses
Along with your bespoke prescription, you can add additional features to your sports glasses lens to really enhance your vision and the overall experience of your game.
Anti-fog lenses
Ideal for outdoors or winter sports where your warm breath can steam up the cold lenses of your sports glasses, blocking your vision or forcing you to stop and clear the lens. It also means you can move from warm to cold environments without them fogging up and having to remove them.
Anti-scratch
Prescription glasses worn for outdoor sports are at risk to the elements, with potential debris hitting and scratching your lenses. Anti-scratch protects your lens, preventing any disruption to your vision or the faff of getting your lens repaired.
Imagine setting up the perfect serve – as the tennis ball falls through the air, the sun completely blinds your line of sight, and you miss that game-winning shot! A polarised lens blocks that interference, allowing play to continue.
If you require prescription glasses at all times, or you don't want the hassle of continually taking them on and off, transitional lenses adapt to your settings. The lens remains clear in darker settings to allow more light in and provides shade and protection for your eyes in sunnier locations.