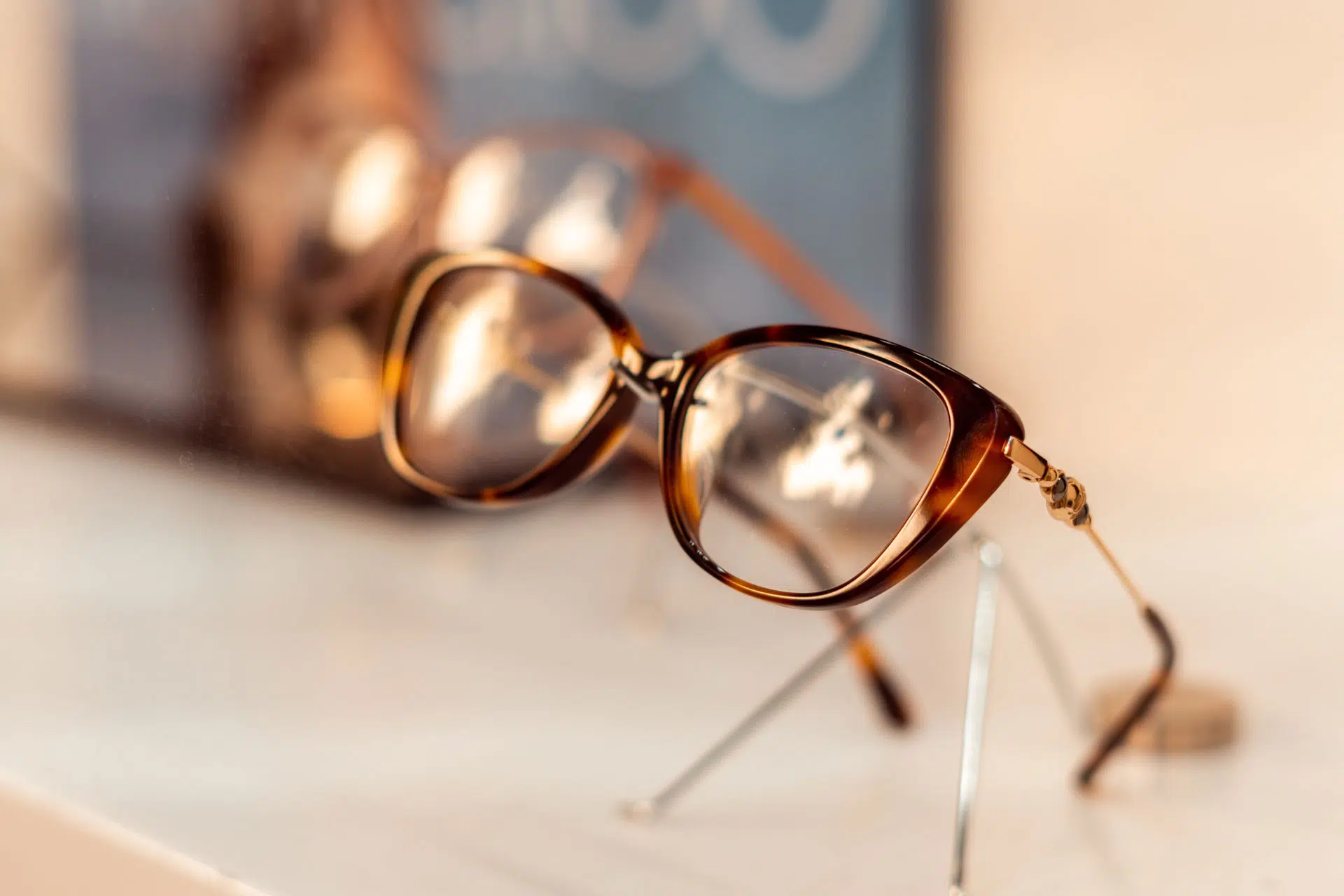 Choosing the right frames can be stressful at the best of times. Let alone when you're sifting through pair after pair of some of the most popular designer eyewear brands including HUGO BOSS, Ray-Ban and Lexxola. Luckily for you, Lensology's guide to designer prescription glasses is on hand to help you see clearly. Making the process of buying designer glasses a lot easier and less costly.
What Makes Designer Glasses So Special?
When it comes to buying new prescription glasses there are a lot of factors to consider. From the practical side of durability, the weight of the frames and overall costs to the aesthetics side of your frames' style, shape and brand. But which features decide whether a brand is also a great designer glasses manufacturer?
We instantly recognise a brand's name, logo or style because they've invested years into their marketing. With time and expertise, they've earnt their space on the shop floor. To build their reputation within the eyewear industry: specialising in glasses, sunglasses, running glasses, cycling glasses and even sports goggles, brands need to perfect 4 key aspects when it comes to prescription frames and lenses:
Superior and unique design
Premium materials and craftsmanship
Durability
Warranty and assurance
If any of these elements don't reflect the flawless finish brands are promoting, it'll impact their reputation, quality and overall value. Hence why so much effort is invested to make them worthwhile.
What Are The Best Designer Eyewear Brands On The Market?
Glasses are no longer crafted to help you see better; eyewear has become a huge fashion trend. So, we understand why most brands have ventured into the glasses frames arena. Even Elton John has joined in! With so many designer glasses brands to choose from, we thought we'd list the most popular brands Lensology reglaze and replace lenses for:
If you already own a pair of designer glasses or sunglasses and looking to replace the lenses, we can help. Our reglazing service allows you to keep your original designer frames and simply switch up the lens. Adding in a prescription lens or additional features such as polarised lenses, without the cost of buying new frames.
How To Save Money On Designer Prescription Glasses
Designer glasses are an investment of both your time and money. Firstly, you take the time to find the best brand for you. Next, you try on multiple frames to choose the right style that suits your face. Finally, you pick a pair which fits your budget. This is why it can be highly frustrating when the lens is damaged or you learn you need prescription glasses, making your current frames obsolete. Or does it?
Here are our top money-saving tips when it comes to choosing designer prescription frames:
Don't buy designer glasses from opticians
This may seem like a quick and easy option after you've just had your eye test, but it's not always the cheapest choice. By all means, try on the different frames to get an idea of what you like and then look for that particular brand and style elsewhere.
It doesn't matter if the frames you find don't have your unique prescription lenses because a reglazing company such as Lensology, can sort that for you. With our reglazing pack, you can send your new designer specs and prescription requirements directly to us. Our technicians will then design and fit your bespoke lenses into your designer glasses or sunglasses.
Pick your frames from TK Maxx
Did you know TK Maxx sell designer glasses? Not only do they offer great designer products at a discounted price, but here at Lensology we've partnered with TK Maxx to offer our customers the best deals possible. Our 365 offer is exclusive to TX Maxx frames and sunglasses, giving you £5 off every pair of TK Maxx lenses, forever!
So, you can find the perfect designer glasses for you and have Lensology reglaze the lenses to match your prescription requirements, all at a discounted price! You could even add on some extra features like blue-light protection, a coloured tint or an anti-smudge coating.
Avoid going directly to the brand
You might think only the designers for a particular brand can fix or enhance your glasses. But going to their high street shop, calling their customer services or posting your glasses back to their head office can be time-consuming, costly and stressful.
Here at Lensology, our technicians have worked with multiple brands and are fully trained to design lenses for all types of glasses. From Ray-Ban Aviators to Oakley Holbrooks, we fit lenses to any shape, style or size of frames. Incorporating your prescription and any other lens features you want. Being UK-based, we can also turn these around within a few days. Meaning you'll have your new designer glasses back in no time.
How To Choose The Best Designer Prescription Glasses
Prescription glasses do more than improve your visibility. For many, they're an important accessory; something which can bring a sense of security and identity or boost confidence. Considering the price of designer glasses, it's important to find the right designer prescription glasses for you.
Here are our recommended steps when it comes to finding your perfect branded frames:
Frame your face
Glasses can completely alter the shape of your face. You want to pick a frame which adds balance and enhances your best features.
Square faces often have harsh angles and pair well with round or oval frames.
Round faces with soft curves suit frames with sharp edges such as square or geometric.
Heart-shaped faces look good with thick rims, bold brow-lines or cat-eye shapes.
Diamond faces sit well with upswept frames which complement your cheekbones.
Oval faces are lucky and suit most frames. This is your chance to go bold with unique sizes and shapes!
Check the fit
Once you've narrowed down the shape of the frames you like, you now need to consider the size and fit. We're all different, so some sizes will sit more comfortably than others. It's important to try them on and ask yourself these questions:
Do the frames slide down your nose?
Does the curve of the arms fit comfortably over your ears?
Are the arms too tight to your head?
If your frames aren't fitted correctly to your face shape, your lenses and the effectiveness of your glasses will be impacted. They'll also be uncomfortable to wear and for some, result in headaches or eye strain.
Complement your colouring
As much as we'd all love to go big and bold with our accessories, this doesn't suit everyone! Even your favourite colour might not sit quite right on your face. Consider your skin tone and find the colours which complement you best:
Cool skin tones prefer cool shades like grey, blue or white.
Warm skin tones suit earthy shades like browns, yellow, red or orange.
Consider the material
With so many eyewear brands available, there are numerous types of materials being used and experimented by eyewear designers. Considering when and where you'll be wearing your glasses will play a big part in which material is best. Or perhaps you're looking for eco-friendly frames from brands that use recyclable and sustainable materials.
Here are the four main materials used for glasses frames and the benefits they bring:
Acetate is a popular glasses frame material for its strong, lightweight and durable characteristics.
Wood provides a unique aesthetic to your frames whilst using eco-friendly, natural materials.
Metal offers a polished finish and is known for its strength, comfort and durability.
Titanium is the most popular and reliable type of metal for its strength and longevity.
Look at your lifestyle
Your work, hobbies and general day-to-day activities have a huge influence on the style of glasses you want or need. For example, if you're extremely active and require prescription glasses, look for lenses which provide protection for both indoor and outdoor activities. Our polarised, tinted or transitional lenses would be an ideal solution.
If you work within a creative environment, you may want to showcase your personality through your eyewear, opting for bold, bright or colourful designer frames. On the other hand, if you work in a more formal setting such as a solicitor or medical practice, you may need to consider frames which reflect your professionalism.
Either way, you can still personalise your designer prescription lenses by adding additional lens coatings such as transitional lenses, blue-light protection or an anti-scratch finish.
Don't be put off by the price
Hopefully, this article has opened your eyes to all the ways you can make designer prescription glasses fit your budget. Whether you're looking to update your existing branded frames to prescription glasses, or choosing to buy a new pair of designer frames to convert into your everyday glasses, Lensology can help. Request a reglazing pack or simply get in touch with the team today.